About Dr Edgard Vera
In addition to his formal training and Board Certification in Internal Medicine since 2000, Dr Vera received sub-specialty training in Nephrology and Hypertension at Henry Ford Hospital in Detroit, Michigan, and is also Board Certified in Nephrology since 2002. He is a Certified Hypertension Specialist by the American Society of Hypertension and a Fellow of the American College of Physicians. Dr Vera is the Medical Director of Kidney & Hypertension Center in Victorville, and the Davita Hesperia Dialysis and Davita Vista Del Sol Dialysis clinics in the High Desert. As a native from Peru, Dr Vera is fluent in Spanish. He comes from a family of doctors and musicians, he is a talented multi-instrumentalist, and also an accomplished sportsman, triathlete and multiple marathon and Ironman race finisher.
---
About Dr Sheila Cherian
After her medical education in India and New York, Dr Cherian became a Diplomate of the American Board of Internal Medicine in 2001; she completed her Fellowship in Nephrology at the University of Southern California in Los Angeles and received her Certification from the ABIM in Nephology in 2008, and the American Society of Hypertension in 2013. She has received the distinction of being elected Fellow of the American College of Physicians. Dr Cherian is the Medical Director of the Dialysis Program and Peritoneal Dialysis Clinic at Davita Mojave Sage in Victorville. As a mother of three, Dr Cherian has been able to balance work and family effectively. She is also pursuing new passions like running and hiking, which in her words "keep me physically active and mentally focused", She has completed a few full marathons and continues to train for more adventures which are in the horizon.
---
Mission
Our friendly and experienced office staff has been with us since we opened in 2009. They know our patients at a personal level, they know the complexities of the referral systems and the need for timely communication between you, our office, your primary care provider, and the insurance companies. They will make every effort to get your appointments scheduled timely. They are also fully bilingual. We use and communicate thru electronic medical records, ensuring the security and privacy of your personal information, you can access your own records via our web portal, available to all patients. Your referring physician will get a full electronic report of your consultation or follow up visit within 24 hours of your appointment. Our doctors put emphasis in clear and timely communication with you and your other health care providers. As part of our quality medical care philosophy, we encourage and enable our patients to take an active role in their care and thereby promote them to participate in the selection of their own treatments and options. We make sure all your questions are answered before you leave the office. Additionally, Dr Edgard Vera is the only Spanish speaking kidney doctor in the High Desert. Our affiliation with Davita, the leading provider of dialysis therapies at the national level, as well as our extensive professional network with kidney transplant centers in Southern California, and other top-level physicians in other specialties in the area, will put you at the center of a experienced health care team that will work for the best results.
---
Doctors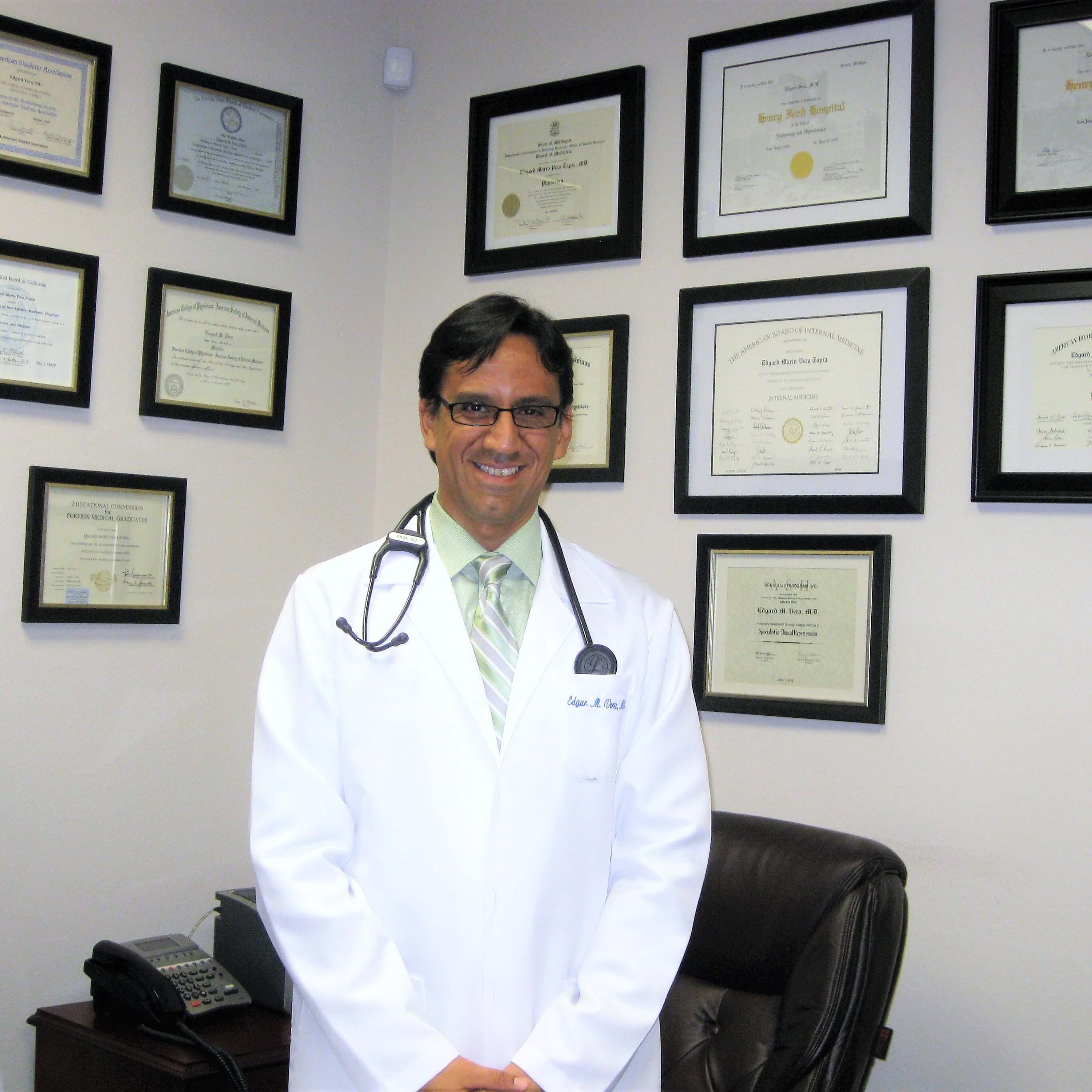 Edgard M. Vera, MD FACP
Medical Director Board Certified in Internal Medicine and Nephrology by the American Board of Internal Medicine Certified Hypertension Specialist by the American Society of Hypertension Consultant Nephrologist at St Mary Medical Center, Desert Valley Hospital and VCGMC Medical Director of Davita Hesperia Dialysis (Hesperia) and Davita Vista del Sol Dialysis (Victorville) Centers
---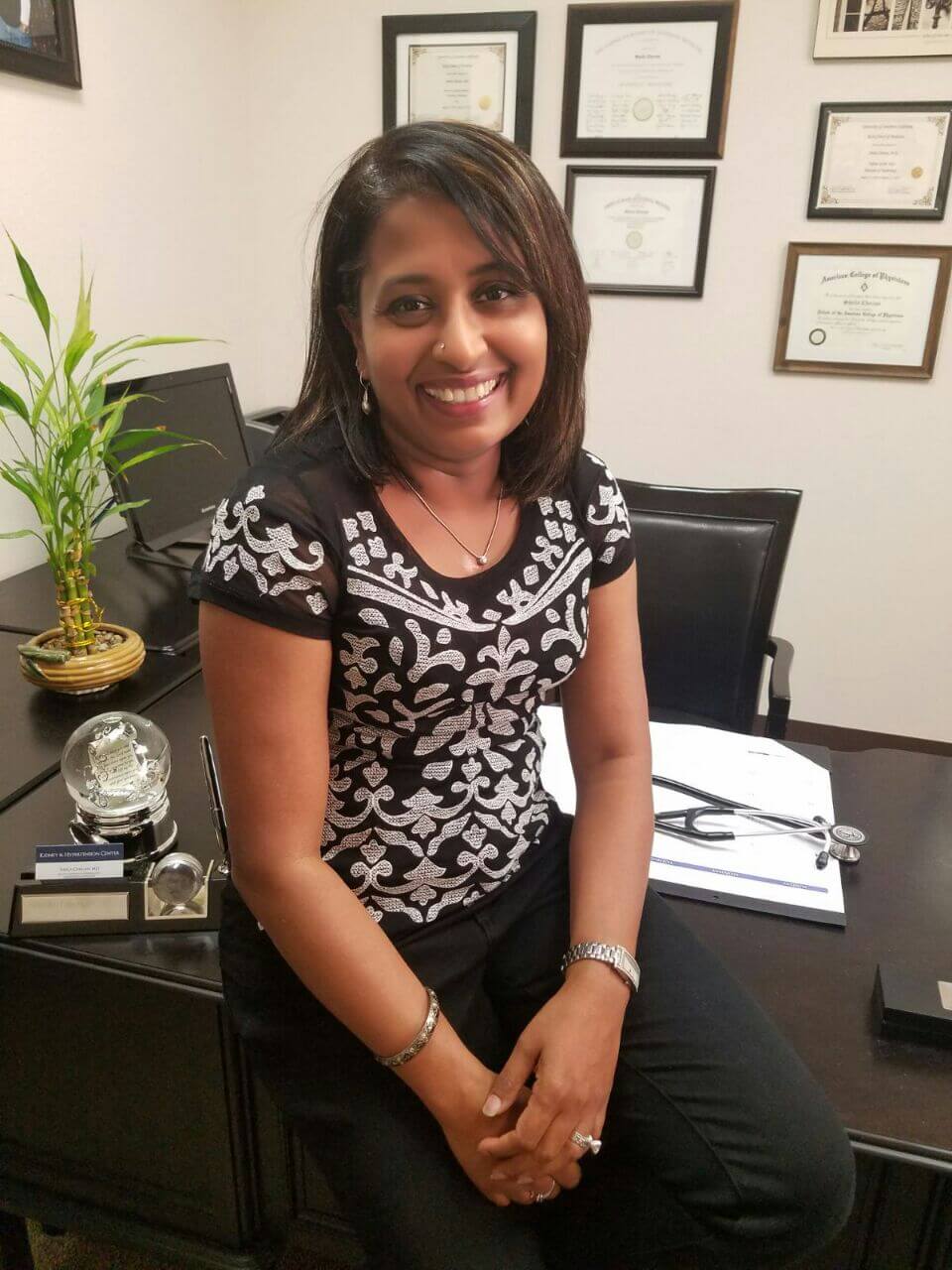 Sheila Cherian MD FACP
Board Certified in Internal Medicine and Nephrology by the American Board of Internal Medicine Certified Hypertension Specialist by the American Society of Hypertension Consultant Nephrologist at St Mary Medical Center, Desert Valley Hospital and VCGMC Medical Director of Davita Mojave Sage Dialysis (Victorville)